Summer Fun with BMD! Join BMD this summer at a performance, event, or dance class. The last shows of our 19th season take place in June and we are offering affordable opportunities to dance with BMD. There is something fun for everyone!
Photo by John McCauley
Summer Dance Intensive
August 10 – 14, 2015
4:00 – 8:30 p.m.
Study and practice with "Metro-DC's premier contemporary dance company" (The Washington Post).
 Open to all professional and pre-professional dancers, ages 16 and older.  
 Enroll by June 30 for the early registration tuition of $450. Registrations later than June 31 are at the full tuition of $500. Tuition scholar available. Click here to learn more.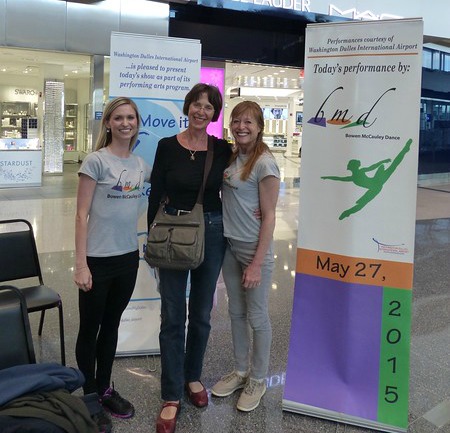 Lucy with a traveler from Vienna
BMD Brings Dance to the Airport
June 4 & June 11
12:30 – 1:00 p.m.
Reagan National Airport
Bowen McCauley Dance performs a 30-minute dance program at Reagan National Airport.
In May, Lucy taught stretch classes at Dulles. Join us as we continue to bring people from around the world together through dance. There is no better way to welcome travelers to our area! Thank you to the Metropolitan Washington Airports Authority for making this opportunity possible.
Photo by John McCauley
Lubber Run Amphitheater
Friday, June 12 
8:00 p.m.
FREE
North Columbus Street & 2nd Street North (two blocks north of Rt. 50)
Arlington, Virginia
Featuring excerpts from Victory Road, a collaboration with the 80's country rock band Jason and The Scorchers, a quartet to Bach's Chaconne in D minor,  and Dancing Through the Decades, originally commissioned by Linden Resources, this high-energy performance is perfect for an evening out with the family. Join us for the final performance of our 19th season!
Photo by David Moss
BMD at Bullis Summer Programs
June 22-26, July 6-10,
July 13-14, July 27 – Aug 7
9:00 a.m. – 3:00 p.m.
10601 Falls Road
Potomac, MD 20854
BMD brings Studio to the Stage! to the Bullis Summer Programs! Attention aspiring dancers and movement enthusiasts: study and perform ballet, jazz, hip-hop and contemporary dance from professional artists. Fees:  $305 (1 week) $600 (2 weeks). Ages: 7 – 12. Click here to register.